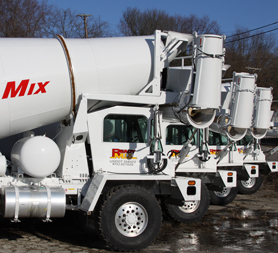 Concrete supply is what we do at Triple Crown Concrete, and we pride ourselves on that. Triple Crown Concrete formerly Ready Mix Concrete started in 1949 with 1 plant, 4 small trucks and a vision. Triple Crown has 9 ready mix plants serving our market area and is investing in the business with 20 new mixer trucks and millions in plant upgrades. Today Triple Crown Concrete employs approximately 100 people in ten counties throughout the state of Kentucky. For almost 65 years putting the customer first and producing a high quality product using the most up to date and modern equipment for a reasonable price has built our reputation not just to stand on, but to continue to grow on. At Triple Crown Concrete we face every day and look at everything we do as building another step toward the future, and we thank our customers for giving us that opportunity.
On July 29, 2017, Hinkle Contracting purchased Ready Mix of Somerset and changed the name to Triple Crown Concrete, a Division of Hinkle Contracting Company, LLC. Hinkle Contracting Corporation started in 1942 as Buckner Hinkle and Company, which was a family partnership.
In 2010 Hinkle Contracting Corporation was acquired by Summit Materials, LLC of Denver, CO forming Hinkle Contracting Company, LLC, a division of Summit Materials, LLC.
Today Hinkle Contracting Company, LLC., owns and operates asphalt plants, rock quarries, ready mix and paving operations.
Whether you want to join our team, partner with us on your project needs or buy materials, Hinkle/ Triple Crown Concrete welcomes the opportunity to work with you.